In contrast to yesterday, today was not a good day for the little lambs to enter the world! It was bitterly cold with snowy showers.
I went out with Aila this morning, Aila managed half way round then decided that actually she was a fair weather shepherdess and it was far more inviting to stay indoors, I didn't blame her.
Hunkering down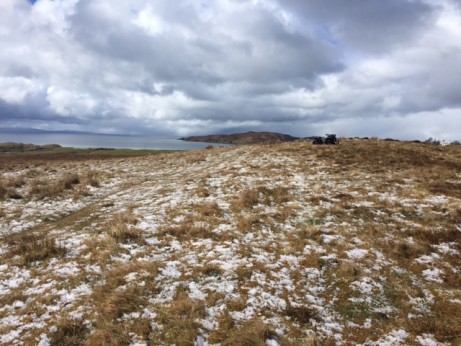 It was a very quick round for me, I really just checked to see if any ewes were lambing and that any new born lambs were okay. When the weather is nasty it is best to try and not disturb the sheep too much as they are all hunkered down sheltering from the weather and keeping their lambs warm.
I was relieved to find everything was fine. I even spotted some lambs playing, they were running and jumping between the snow showers – a good sign of healthy lambs.
Poo!
I was on my own for the afternoon round. I decided to mark a few lambs. First off was a set of twins which must have been a couple days old. A male and female. The male lamb was obviously a greedy
wee sole as its back end was all bunged up with poo. This is a good sign the lamb is getting plenty of rich milk. However, lambs' poo is very sticky and it can all get bunged up and form a ball of poo round its tail. I had to pull, with a fair bit force, the tail that was stuck between its two back legs to release the tail and then wipe it along the grass to try and clean it a bit and allow 'free flow' poo once again! Not one of the most glamorous jobs and one I try and avoid.
I marked a further three lambs, all were doing great despite the wintry weather.
Genetics
Dad is registered with Signet which is a scheme set up to assist farmers improve their flocks through genetics. To enable this scheme to work we have to keep a tighter record of the flock which includes recording new lambs and taking a note of the lamb's mother's tag. Dad keeps a record of which ewes went with which tups so we know when the lamb is born who the father is. This then allows for genetic evaluations of the breeding potential of that lamb. Dad has been in the scheme now for over 10 years and has seen an improvement in the growth and maternal traits of the flock.
I fed Daisy after the afternoon shift, Daisy is still with her mother so not, at all, pet like. Despite taking  a bottle in to the fank it does take a fair bit effort to catch her. The more she feeds the stronger, and faster she gets! I lost count the number of times I ran round the fank trying to catch her!