It is far easier to write a blog when it is about sheep or cows rather than about myself – the so called farmer's wife!  I don't really think of myself as a farmer's wife, I live on a farm – yes. I also don't think of Jock as a farmer, which is maybe unfair, he has so much other stuff to do that he doesn't always get the chance to spend as much time on the farm as he would like. Maybe once things settle (if they ever do) he will be able to manage his time better and wear his boiler suit a bit more!
Life seems ridiculously hectic and I am awaiting a quiet month! From June show season starts and Jock tries to attend a few shows selling our quality Macbeth's produce whilst promoting the business. We sometimes go along too, as much as I would love to help, I am unable as two wee girls are not always the most conducive to helping on a busy stand and equally not the safest whilst cooking hot sausages. Aila has sussed out pretty quickly however that she is happy to help Daddy in payment for ice-cream! The big one is the Highland Show a great social event where anyone with an interest in agriculture attends.
Gairloch Highland Gathering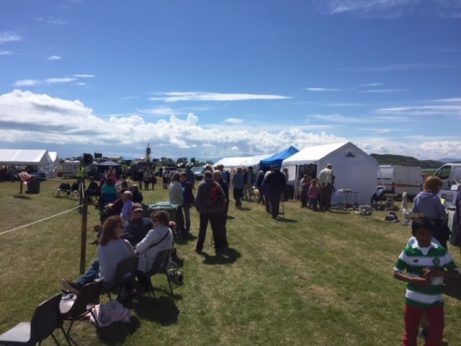 The first week in July has two big events for us – the Gairloch Highland Gathering and Aila's birthday. The Gathering is an event I resurrected 14 years ago. My Grandpa talked of the Highland games that used to be held in Gairloch but sadly it folded, near enough 50 year prior to resurrecting the Gathering. I was gutted that Gairloch didn't have a community event when most of the surrounding communities did so I decided to take it upon myself to rectify it. This, coupled with a healthy New Year's debate with one of my older cousins who said to me 'there is no way you will get a Highland Games in Gairloch again!' – that was it, I had to prove him wrong!
I have chaired the Gathering committee for the past 14 years, one year I stood down as chair as I was on the other side of the world.  The other year whilst I was still involved in the planning I did not attend as Aila was due any day and my Mum and aunties thought it best I stay put! The event takes up a lot of my time from May onwards, whilst work goes on before that the brunt of it is the last couple of months. It gets more and more difficult as the girls get bigger and time is precious but once it gets to the day it all seems worth it.  It is one of the thing I feel proud to have achieved as 14 years on the event is self-sufficient, having only received funding in year one, it costs in the region of £20,000 to run so it is no small feat!
Birthday time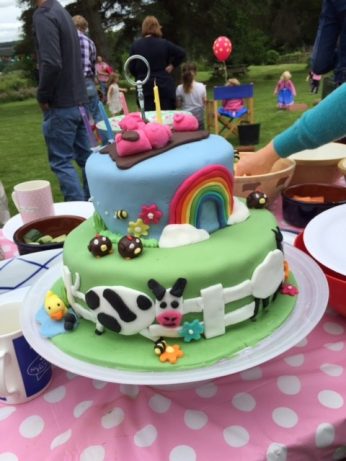 The week after the Gathering we chose to have Aila's fourth birthday party at the farm. We thought it would be nice to have a happy event at the farm and Aila was keen to have a party.  A bouncy castle was booked and thankfully the sun shone for the afternoon! My sister came to stay and was a massive help in preparations, especially in helping decorate the cake – Jock even helped a little, his contribution were three little hens which looked more like angry birds!
I can't quite believe we are in October, the past few months have flown by and I'm not quite sure what has filled our time! Following Aila's party we were back up in Gairloch for a holiday in a static caravan on our family's caravan and camping site. I always enjoy being on the west and it is even better when my sisters are up at the same time. Whilst Aila and Tilly are still quite wee they absolutely love, Aila especially, having their big cousins around to play with! It was a great week spent walking, kayaking, swimming in the sea (that was all on the two sunny days!).
The return to nursery came round quickly and our days have been filled up with messy play, baby bop and dancing – I definitely feel like a taxi for my daughters' social calendars!
The first few backs into nursery calendar was quite exciting with the arrival of 11 Shetland wedder lambs (castrated male lambs!) then 10 little piggies! Aila and Tilly get really excited about the arrival of these animals, the reality once they are here can be quite different but they soon gets used to them and blether away to them when we feed them!