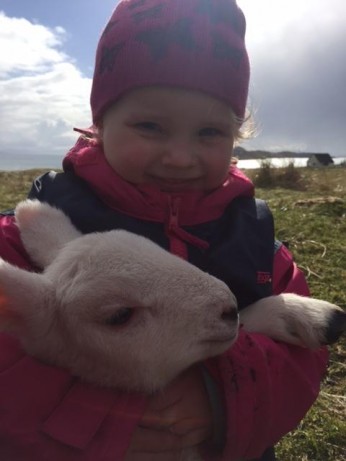 I thought yesterday's weather was bad, today was worse!
My brother did the early shift, there were three new lambs including one which he lambed.
I put on an extra couple of layers of clothing and off I went to brave the weather. All the sheep were sheltering amongst the long grass so I didnt want to disturb them too much. Many lambs looked quite cosy hunkered down. The new lambs born this morning were doing fine.
I spotted a ewe lambing and hoped that when I came down for checking the ewes on the hill it would have lambed. No such luck! I was cold and damp and the last thing I fancied doing was running over rough ground in wellies, waterproofs and all the other layers of clothing I had on, to catch the ewe! The lambs head was out and there were no legs so I didn't have much choice! I caught the ewe and sure enough there were no legs coming,  I managed to hook my finger behind  the lambs legs and pull, I got the lamb out alive which makes it all worthwhile!
My cousin Elaine came out with me in the afternoon. She had more layers of clothing on than I did! First look round the field and I spotted a ewe lambing. Nothing was showing so I decided to mark some lambs first. We marked three and all were grand despite the weather.
We caught the ewe that was lambing, it was very handy having Elaine as she was able to hold the ewe while I lambed her. The lamb was quite big for the ewe so it was very tight getting it out. It took a bit of time and gentle, consistent pressure but we got her and the ewe showed an interest in the lamb so all was well. As we walked away I spotted another ewe lambing.
This other ewe looked fairly fiesty. Thankfully I had brought out a spare stick for Elaine! My intention was to walk the ewe into a corner to catch her, however the reality was quite different! We got her in the corner but didn't manage to catch her. However, as she was running off Elaine's quick reaction with the stick caught her leg and I managed to leap across and wrestle her (the ewe, not Elaine!) to the ground! Elaine was delighted, the first ewe she had ever caught. Another big lamb and I was grateful for having Elaine to hold the ewe down as she was a lively one. The lamb was alive and well and the ewe immediately started licking her.
A good job done and three healthy lambs that wouldn't have survived if we hadn't intervened.