This month, the Knockomie Hotel's head chef Richard Burpitt  brings us:
Slow Braised Featherblade of Beef
Serves 6 to 8
Ingredients:
2kg featherblade
20g seasoned flour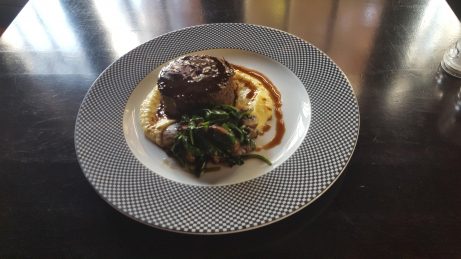 10g butter
10ml vegetable oil
2 carrots sliced
2 onions sliced
4 cloves of garlic crushed
2 sprigs of thyme
2 bay leaves
250ml red wine
1 litre chicken or beef stock
Method
In a large frying pan melt butter and oil, brown beef on all sides, remove and place in a large casserole dish or a deep roasting tray. Add carrots and onions to pan and brown for 5-10 minutes, add the herbs and garlic.
Add red wine and stock and scrape off any meat stuck to the pan, bring liquid to boil. Add liquid to beef, season, cover dish/tray with lid or foil and cook at 150 degrees for 3 – 4 hours until the beef is extremely tender.
When the beef is cooked, remove from stock and place in a mixing bowl.  Add 50ml of stock.  Allow to cool, then shred the meat down, roll it in cling film and leave to set in fridge.
Strain the remaining stock and put in a smaller saucepan and reduce until you have a natural sauce.
Celeriac Puree
1 celeriac, peeled and diced.
100g Butter
300ml Cream
salt and pepper.
Sweat off the celeriac in the butter on a low temperature for 10 – 15 minutes until it starts to soften, add the cream, bring to boil, cook for a further 3-4 minutes,  put into food processor and blitz until smooth, season to taste.
Accompaniment
500g Chestnut Mushrooms
500g Spinach
50g Butter
Melt butter in a frying pan, add mushrooms and cook out, add spinach and cook until the spinach is wilting. Drain off excess liquid.
To Serve:
Cut beef into desired number and size, place on a tray with a small knob of butter and place in oven at 180 degrees heat thoroughly. Once heated through service with the celeriac mash and the spinach and mushroom accompaniment. Enjoy!