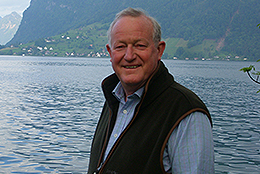 We are very sad to announce that Macbeth's owner and director, Michael Gibson, died unexpectedly on Saturday 25th July.
Michael's passion for Highland Cattle resulted in him purchasing a 100 acre farm in Morayshire in 1974. He quickly grew a good reputation for his beef and quality of his herd. It also led to him meeting his future wife Susan.
With demand and interest growing Michael and Susan decided to increase the size of their herd by renting additional land. They also moved into other well -known Scottish Breeds, Aberdeen Angus and Short Horn which are have now been crossed to produce the great beef we provide today.
When a family run butcher's shop became available in Forres, 6 miles from the farm, Susan and Michael decided to supply their customers direct and purchased the business. Since the purchase the business has moved into larger premises and Macbeths went online in 2000 allowing more people to enjoy their Highland Beef.
As well as running the farm and supporting Susan with the butcher shop, Michael sat and chaired many governmental and public committees including the Food Standards Agency, the Macauly Institute and the Scottish Association of Marine Science.
Not only did Michael adore the outdoors, he also had a passion for art, fine food and wine, always providing excellent hospitality and keen to entertain as well as being entertained. He took his learning's from his own business to support local art groups and artists.
Michael's commitment to the Scottish Food Industry resulted in him being awarded the CBE, which both he and we are all very proud of.  He died of a heart attack whilst cycling from a neighbouring farm where he was inspecting some crops, and his home Edinvale.  Michael leaves behind his son Jock, who came to work in Macbeths in 2007, and daughter Bridget. We would like to thank all of our customers for their words of support and sympathy.