We are celebrating National Butchers Week which kicks off on Monday and to do so, two of us are going head to head to win the accolade of being the sexiest in their trade. Yes really!
Myself (Jock ) and our head butcher Kevin Cargill are competing against each other to secure the Sexiest Butcher title which is being run to coincide with the week. Who would have thought it?
The quest to find the nation's sexiest butcher has been set by leading industry magazine, the Meat Trades Journal who are organising the campaign week .
It's the first time we have done anything like this, but we just thought it would be a bit of fun. It's a great event to get involved in and with the meat trade having faced various challenges over the years, we are having to come up with new and inventive ways to promote the business and the industry we are in.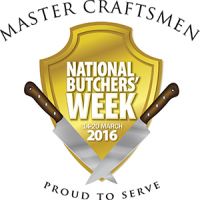 We need to bang the drum for the local butcher and remind people that we are here to help. As well as the contest we will have offers on in store and online. We need to remind people that your local butcher has knowledge about meat that you won't find anywhere else. We want to encourage people to tap into that knowledge so they get great cuts of meat at great prices.
Kevin has worked with us for nine years and he is a great hand and fantastic with the customers, although there will be trouble if he wins the title and I don't.