We were recently lucky enough to be featured in The Scotsman newspaper who did a write up of our ups and downs over the last 30 years. If you didn't see the article – here it is: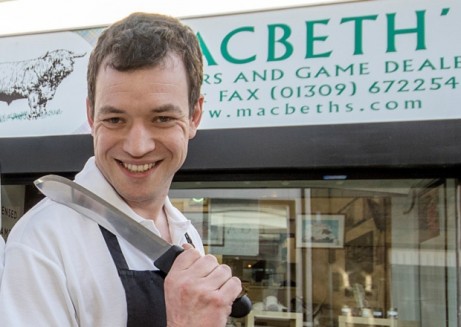 IT is an industry that has faced serious knocks over the years – from health crisis in livestock, the recession and the quest to encourage people to shop local.
So why did someone with two degrees in engineering end up running one of Scotland's leading butchers?
Running a family butcher's shop and farm was never on the cards for Jock Gibson of Forres-based Macbeth's Butchers, as he had envisaged a very different future.
However, last year, after facing his own personal tragedy following his parents' deaths within a year of each other, Jock is now at the helm of the business and is doing all he can to continue its success.
But it's not come easily or naturally to him.
He explained: "Taking on the shop and now subsequently running the farm was the last thing I was going to do.
"I had two degrees related to engineering and was working as a building services consultant but I wasn't convinced I was very good at it.
"Mum and dad had started to talk about selling the business. They had worked for so long at it and faced so many challenges along the way and were looking to move on."
He added: "Naively maybe, I thought I could do something with it. I wanted to push online sales, we were on our second website and what we were doing marketing wise was all a bit half hearted.
"I just thought that getting involved and doing something was better than doing nothing."
Nine years on from taking an active role in the shop, Macbeth's is holding its own.
The history
Jock's parents, Michael and Susan Gibson, bought the shop in the mid-1980s as a way to market their meat from their nearby farm Edinvale, which they had bought a decade earlier.
He said: "Dad was an accountant by trade but he decided it wasn't for him so bought the farm.
"He started with two Highland cows rustled from his parents and the business built from there.
"In the early 1980s we took a lease on another farm and at our busiest we were probably farming a thousand acres with about 500 cattle."
Although it wasn't Michael's trade either, he went on to become a president of the Highland Cattle Society, Chair of the Agricultural Committee of the Scottish Landowners Federation and in 2000 was also elected onto the board of the Food Standards Agency.
Over his career, he developed a reputation as one of the area's most respected cattle breeders and was awarded a CBE in 2006.
"When it all began they made some great connections," explained Jock. "Mum and dad pushed the wholesale side of the business and they got our award-winning beef into some very smart restaurants.
"At that time, promoting meat in that way was all very novel. They were dealing with independent hotels where they could speak directly to the owners and chefs.
"It's unfortunately not like that now and that has had an effect on the business."
Mail-order
Jock, who now lives at the farm with his wife Fiona and two daughters, Aila, three, and one-year-old Tilly, added: "Running any business needs constant attention and we have always worked hard to keep that step ahead.
"I remember as a wee boy sitting stuffing envelopes for the shop's mailing list. Mum would sit and handwrite out every address.
"These were the days before computers were mainstream. Doing mail-order back then was as forward thinking as you could get, particularly for a butcher's shop. People were watching us to see if it would work."
But there were events to happen that were outwith the control of the Gibson family.
Hard times
"From the late 1990s really to today, the industry has faced knock after knock after knock," explained Jock.
"BSE hit and in all honesty that almost wiped us out. We had been exporting our Highland Cattle for a number of years and had decided in going down a relatively new road of selling embryos.
"At the time we were one of only three embryo collection centres in Scotland and we had customers around the world. That was lucrative and it literally stopped overnight due to ban on movement of livestock. We have never got back into that market.
"We also got almost completely drummed out of the London market.
"There were traders down there who had been selling to Europe, but the movement ban meant they could no longer do that, so they had to find somewhere for the meat to go and the market was flooded. We got massively undercut. It was a bad time.
"Then we faced foot and mouth and the recession. It's been a battle, but it's one I'm now almost comfortable with taking on."
He added: "My parents were always forward thinking. For example, in 1999 we went online and we again began to really push the wholesale trade in a big way and our mail order sales.
"There was very little online competition at that time and that's still a huge part of our business.
"Around 60 per cent is wholesale, 30 per cent is online and 10 per cent is retail through the shop."
The future
But where does the business go from here in a modern world?
Jock said: "Keep chipping away and trying to come up with new ideas. When I first fully got involved in the business, one of the first things I did was set up a Facebook page.
"It maybe sounds the norm now, but Facebook was new back then and it was mainly being used socially.
"I think I am safe to say that we were one of very few businesses who back then were using it as a marketing strategy. It was not a mainstream tactic like it is now."
And Jock is slowly getting a reputation for being the king of the "marketing strategy".
Recently he was the star of a haggis-hunting video which went viral, giving the public a unique insight into the intricacies of 'catching the elusive wild haggis'.
He illustrated a trap being laid, baited and harvested. Jock even went as far to grapple on the ground with the haggis.
The footage has currently reached over half a million people.
He also worked with his head butcher and created a Valentine's Day sausage and as part of National Butchers' Week he was nominated as a "Sexy Butcher", a contest run by the Meat Trades Journal.
Jock added: "I have to have some fun with the business too. I market a lot on social media so we do need to come up with ways that appeal to that kind of clientele.
"I recognise that there are lots of people who would love to be where I am, but it's a hell of a responsibility.
"The loss of both my parents, who were heavily involved the business has hit us hard, both personally and professionally.
"That said we are where we are. I have a responsibility to farm in the best way we can and to market our produce in the best way we can. I need to make it sustainable.
"I never envisaged being up at the farm, certainly not as soon as I have had to be, but it is a privilege."