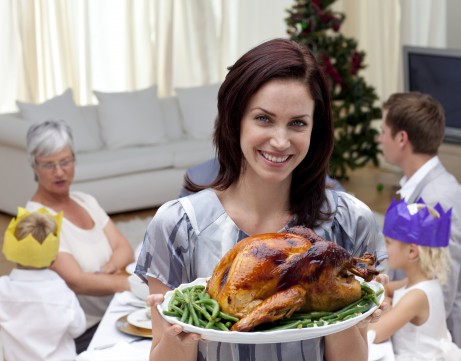 Whether it's turkey, venison or beef you opt for at Christmas, there are bound to be leftovers.
Christmas wouldn't be Christmas without them.
But rather than just slapping the remnants between a couple of bits of bread, why not try something a bit more inspiring instead?
To make it easy, we have collated some of our favourite recipes to tickle your taste buds, but remember, be prepared. To ensure you don't waste any of your leftovers, plan what you are going to make, and buy the ingredients you need for it along with your main Christmas shop.
Turkey
A turkey is a big bird so you will definitely have some to spare, but with all the Christmas parties you've been attending since November, you're probably sick of the sight of it by now.
These turkey dishes below are ideal for making and freezing.
Turkey Pie
Ingredients
(Everyone will have different amounts leftover, so adjust the ingredients accordingly.)
1 knob of butter
325g mushrooms halved. You can also add other veg such as tinned sweetcorn
275g turkey, shredded or chopped
450ml turkey gravy (remember to make extra on Christmas day)
1 block of shop-bought pastry (this is optional for freezing).
Method
In a large pan, melt the butter and add the mushrooms. Once they have lost some liquid, add the turkey and gravy. Pour into a pie dish and freeze once the turkey mixture has completely cooled. You can also top with the pastry now and freeze too. Pinch the pastry around the edge of the pie dish, and cut slits in the top to release steam. Again, do not freeze it until the turkey has completely cooled. When you decide it's time to tuck into your turkey pie, defrost thoroughly, top with pastry if not done so already and pop in a pre-detached oven at 180c/gas mark 4 for 45 minutes.
Turkey curry
In many households, a turkey curry is almost as important as the roast and all the trimmings. It may not make it into the freezer, but remember, turkey is a lean meat, so if you are making resolutions to shift some pounds, keep this tasty treat up your sleeve.
2tsp sunflower oil
1 large onion, peeled and diced
1 or 2 garlic cloves crushed
1 tbsp of your own choice curry powder, of your choice
1/2 tsp ground coriander
leftover turkey meat
400g of tinned chopped tomatoes
1/2 lemon, juiced
300ml of vegetable oil
2 tbsp of desiccated coconut
salt and black pepper
Fry the onion and garlic in the oil, for about 5 to 10 minutes or until soft. Add the curry powder and spices, and fry for 1 to 2 minutes. Add the rest of the ingredients and mix thoroughly. Simmer, stirring at regular intervals for about 15 to 20 minutes, do not allow to boil. Either allow to cool and freeze or serve there and then with boiled rice and naan bread.
Beef
A good bit of beef can go a long way and there's nothing like the leftovers to keep you wanting more.
That Jamie Oliver guy seems to know a thing or two about grub and we've found this fancy recipe for leftover lasagne. It's not for the faint hearted mind. It takes three and a half hours from start to finish and the cockney geezer even has you making your own pasta and white sauce. If that's not for you, simply substitute those items for shop bought ones instead.
Find the recipe here
Venison
If you've got any venison leftover, we'll be surprised as it's usually gobbled up in one sitting. However, aren't you lucky if you do as you get to enjoy this fantastic meat a second time around.
There's lots you can do with venison leftovers – although the flavour is a lot richer than beef, the ways they can be used are very similar.
However we've opted for an ever so slightly healthier salad which would be ideal for a Boxing Day lunch or supper. The recipe courtesy of following this link to the BBC Good Food Guide uses beef, but it would work just as well with venison.