History
Macbeth and Son started out life as a traditional high street butcher's shop and was operated by the Macbeth Family (who are still in the area) for many years. In 1986, Michael and Susan Gibson bought the business to provide a direct outlet for the produce of their farm, Edinvale.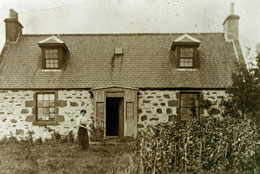 In the years since they have developed a successful mail order business in addition to maintaining the high street trade and building a wholesale business.
In 1995, Macbeth's moved to larger premises in the old indoor market in Tolbooth Street, Forres and from here continued to grow the business. We are proud to have customers in every corner in the UK – and places in between!!
In 2007 Michael and Susan's son Jock joined the business and now looks after the activities of Macbeth's whilst Michael and Susan primaily look after the Farm side of life.  In 2015 Jock and wife Fiona took on the running of Edinvale as well and have continued to develop both sides of the business.  Since 2007 Macbeth's has seen the online presence of the comany grow as well as increase the product offering.  Increasingly Macbeth's makes available very specialist meats from niche suppliers.