Retail
Our Opening Times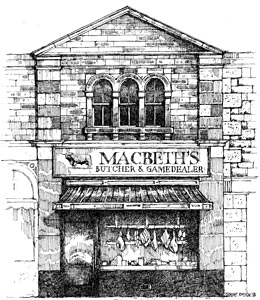 Monday: 0800 – 1700
Tuesday: 0800 – 1700
Wednesday: 0800 – 1700
Thursday: 0800 – 1700
Friday: 0800 – 1700
Please feel free to order ahead if you are in a hurry and can't wait.
Our phone number is 01309 672254
Macbeth's is situated in Forres, an ancient Royal Burgh Town, in the North of Scotland on the Moray Coast. The Royal Burgh of Forres is thought to be "Varris" shown on maps made by Ptolemy almost 2,000 years ago.
Forres has grown much in recent years and now has over 9,000 inhabitants, and is well known for its award wining floral sculptures. It is steeped in local history and traditions.
Traditionally a market town, Forres maintains a wide variety of independent traders. If you are tired of faceless shopping centres why not visit a traditional town centre where you can shop in a more friendly and relaxed atmosphere.
A short walk down Tolbooth Street will take you to Macbeths. Here you will find on display a large variety of products for sale.
If there is something that you don't see but would like, please do ask for it as we have a wide variety of items that sometimes do not make it to the display.