Macbeth's People
Jock & Fiona Gibson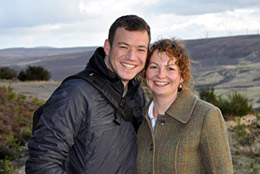 Jock started out his professional life as a consultant engineer in Peterborough before moving to Glasgow to do a stint there.
Having decided that he probably wasn't much good as a consultant engineer, he moved back up north to start running Macbeth's in 2006 and took on the running of the family farm after the sudden death of Jock parents in 2014 and 2015.
He and Fiona got married in 2011 and now have a 3 very energetic children, Aila, Tilly and Rory.  Together they look after the day to day running of Macbeth's whilst also running the family Farm Edinvale.
Kevin, Michael, June & Charlie
The guys behind the meat!! Kevin has been with us for a number of years and is now our Head Butcher responsible for the day to day running of the place.  He is ably supported by Michael, June and Charlie who look after the manufacturing side of life and preparing orders whilst honing their knife skills with Kevin (and not on him).
Karen
Karen is the mainstay in the office helping to keep things running smoothly.  It is hard to give Karen a job description as it keeps changing but needless to say she is "The Voice" behind the phone and more often than not will be doing the deliveries.  She is passionate about Macbeth's and customer service so is an essential part of what we do