Scotch Beef
We think that our Scotch beef is up with the best and here's why.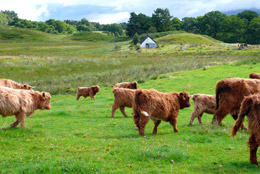 We use traditional native breeds of cattle that are well suited to the ground on which we farm.  They are kept in a natural, extensive environment.  They live outside during the summer and during the winter, the young are brought inside.
They are Grass and Forage Fed – not force fed. They are not given any growth promoters.
We use a nearby slaughter house, keeping travelling distances to a minimum. This is vital as it will greatly reduce any stress experienced by the animal which would otherwise have a detrimental effect on the quality of the meat.
The meat is all hung for a minimum of 30 Days.
Edinvale and Macbeth's are members of the Quality Meat Scotland assurance schemes which independently inspects our operations to ensure that it is meeting the latest quality standards. This extends to the monitoring of vetinary health plans and environmental sustainability.