Macbeth's People
Jock & Fiona Gibson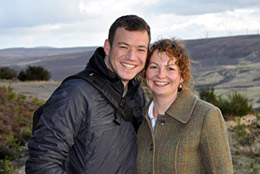 Jock started out his professional life as a consultant engineer in Peterborough before moving to Glasgow to do a stint there.
Having decided that he probably wasn't much good as a consultant engineer, he moved back up north to start running Macbeth's in 2006.
He and Fiona got married in 2011 and now have a very bouncy baby called Aila.  Together they look after the day to day running of Macbeth's.
Michael & Susan Gibson
Michael and Susan bought Macbeth's over twenty years ago and have built it up over that time.  They live at Edinvale Farm, the main beef supplier to Macbeth's, and (although we are frantically trying to retire them), they still take a very active part in the business. Michael Gibson trained originally as an accountant, which he persevered with for a number of years before he decided that it was not for him. At this point he bought Edinvale and 'rustled' the two Highland cows that had belonged to his parents to adorn their garden. From these fairly modest beginnings Michael and Susan developed their highland herd, successfully winning prizes at shows throughout Scotland.
On a more serious note Michael was president of The Highland Cattle Society, formed and chaired the Agricultural Committee of the Scottish Landowners Federation. He was an inaugural Board member for The Food Standards Agency, Chaired the Scottish Food Advisory Committee and was on the board of The Meat Hygiene Service. He chaired the Macaulay Land Use Research Institute. He has held numerous advisory roles with Government and until recently chaired The Quality Meat Scotland Standards Committee for Cattle and sheep. He was awarded a CBE in 2006.
Susan Gibson has been the mainstay of the Macbeth's operation for the last twenty years and is largely responsible for where it has reached today. She has steered the company through difficult times, notably the BSE crisis in 1997 and more recently the Foot and Mouth outbreaks. She has been the eyes and ears of Macbeths in the office ensuring efficient service and high standards of customer care and their orders.
Both Michael and Susan enjoy their outdoor pursuits including skiing, walking and field sports as well as an awesome appreciation for good food and wine! It is largely this that gives them the passion which lies behind Macbeth's.
Kevin, Gerry, Sam and Jack
The guys behind the meat!! Kevin has been with us for a number of years and is now our Head Butcher responsible for the day to day running of the place.  He is ably supported by Gerry, Sam and Jack who look after the manufacturing side of life and preparing orders whilst honing their knife skills with Kevin (and not on him).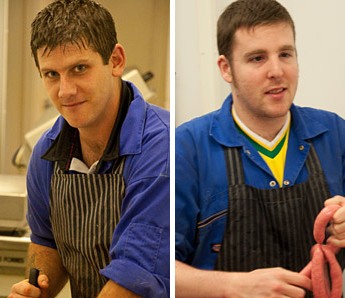 Jo
Jo is the mainstay in the office helping to keep things running smoothly.  It is hard to give Jo a job description as it keeps changing!