Macbeth's Farm
Edinvale Farm became home for founders Michael and Susan in the mid 1970s. It is situated between 500 and 800 feet above the Moray Firth in the Highlands of Scotland where it was home for their show fold of pedigree Highland Cattle.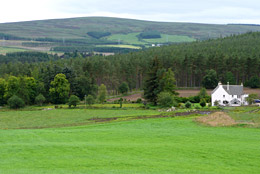 Beef Shorthorns were soon introduced to the growing business utilising the cattle not suitable for pedigree breeding. The business model at this time was geared towards exports where demand was high. Edinvale exported to some 13 countries in 3 continents. We also won some 10 major championships with our cattle including the champion and reserve champion at The Royal Highland Show in Edinburgh.
Disease control and animal health are vital to any livestock enterprise but especially to pedigreed breeders and so despite a clean herd, BSE elsewhere in Britain closed our export business and left us looking for alternatives. Macbeth's our family owned butchers started taking our surplus cattle and we introduced the world renowned Aberdeen Angus breed as a terminal sire for our cows to ensure the highest quality beef going through Macbeth's. These three breeds are still used in this way at Macbeths as our primary quality control. Today our breeding cattle are still very important to us and we breed all our own herd replacements; we also supply a number of farmers with their breeding cattle, mainly Highland crossed with the Beef Shorthorn.
We hope that the control over our cattle from their conception to their sale from Macbeth's gives our customers an assurance as to their provenance and rearing that is unrivalled. The cattle are all treated in the same way, their ultimate destination making no difference; thus they are not forced with high grain diets nor given any dietary stimulants or feed additives. All our cattle are fed on grass diets with supplementation from farm sourced feeds such as turnips, barley or sugar beet.
The health of our animals is fundamental and is a major selling point for our breeding cattle; thus it follows that our cattle for Macbeths should be just as healthy. As all our cattle are born on the farm we know and understand them very well and a health plan has been developed over many years. It never involves the use of antibiotics but rather balances mineral and vitamin requirements with a good programme for dealing with grassland parasites such as worms. This keeps our animals in the peak of health and our vet reviews the situation annually. Moray is a healthy county famed for its production of high quality cattle. They live overlooking the Moray Firth and the Cairngorm mountains; they are sheltered from the worst of the winter storms but are from hardy breeds that take a little bad weather in their stride. We hope that our beef provides a pleasure that can only be enhanced by fine wine and good company.